Shop Local This Holiday Season!
We know these past eight months have been like nothing you have ever imagined but they have made a lasting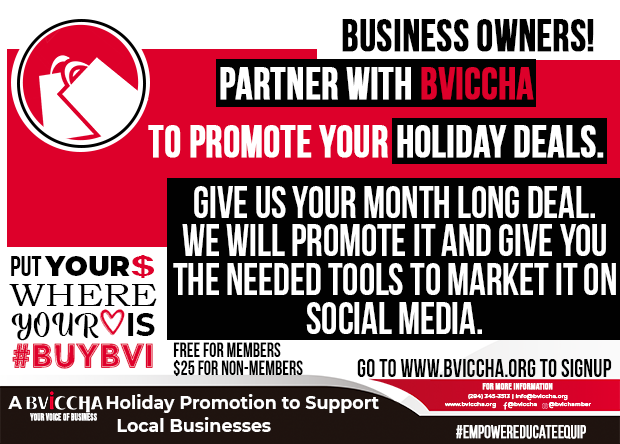 impact on your business and all the people who support it. Typically this time of year, our community anticipates the influx of holiday travelers who inject into the entire economy one way or another. Sadly, we may not have that this year (but we are keeping hope alive that things will turn around).  While it's easy to focus on what is lost, we have to move beyond what feels like it was taken away from us to find opportunities. This is why we're launching a call to action for our community to support our local, independent businesses and let's "Put Your Money Where Our Love Is #BUYBVI" this holiday season.
The "Put Your Money Where Our Love Is #BUYBVI" initiative will be promoted from November 15th through December 15th. All participating businesses will have a month-long promotion as well as a Deal of the Day. These deals will be featured on our
BVICCHA Facebook Page
(that has seen over 100% growth in the last eight months).
The advantages of supporting our local, independent businesses are obvious, but perhaps we need reminding.
When dollars are spent with local businesses, that money strengthens those organizations and helps stabilize the jobs they've created.
Those businesses and their employees in turn are better able to support local charities with their time and money.
Spending with independent, local businesses also allows business owners and their employees to provide for their families – ballet, piano, or karate lessons; football, track, or cheer; back-to-school clothes and books; or the money needed for college tuition.
Most people can understand and appreciate these positive impacts, but far too often the convenience "one-click" shopping for something we could find down the street wins out. Let's all do our part to "BUYBVI" this holiday season and think local before we make that next purchase!
The best part!!
Free for members
Only $25 for non-members.
We do all the work for you!  It's a win-win!
Check back often as we upload this page with our participating businesses and see what they are offering!