Who can join the chamber?
The BVI Chamber of Commerce and Hotel Association is a business network that works hard to support and represent the British Virgin Islands business community.  The membership is made up of all sizes and types of businesses, educational institutions and professional organisations. Our members are the heart of the organisation giving us a strong voice to represent local business.
What's in it for you?
Investing in the Chamber of Commerce and Hotel Association is an investment in your future and the future of the BVI. Your investment supports our ongoing efforts to be the regional hub for business and education.  The Chamber connects members with each other to encourage business to business opportunities.
The Chamber promotes your business through our website and through referrals. We act as a resource centre, providing information regarding pertinent laws and regulations, business opportunities, educational opportunities, etc.
Chamber membership is vital to the growth and prosperity of the economy.  We are the liaison between the business community and the government and promote the continued growth of the region, improving the quality of life in the BVI.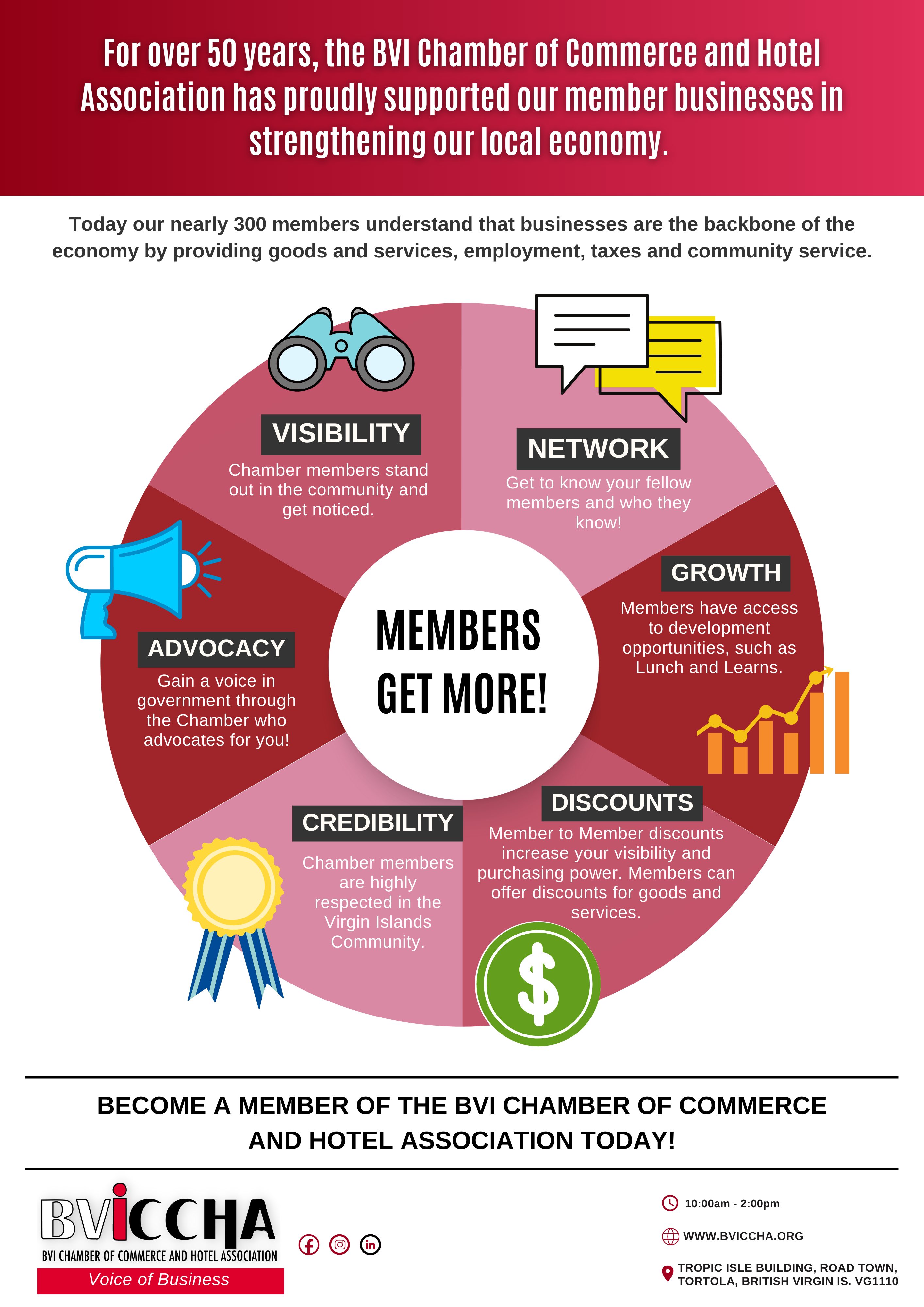 Member Benefits
Networking Opportunities
The Chamber connects business leaders of various industries through a collection of events. These include:
Business After Hours: hosted by chamber members

to encourage networking out of the office and off the clock.

Wake Up Breakfasts: an opportunity to take part in an early morning forum.
Annual Business Awards Gala: chamber members are entered to win awards in different categories.
Promotions and Visibility
We can help you promote your business and increase exposure through our website, mailing lists and social media platforms. These include:
Banner ads on our website
Job postings
Member2Member discounts
Eblasts
Social media spotlights
Business listing on our website
Training 
A range of training opportunities are on offer for our members who are looking to elevate their skills and offering.
Resources and Advocacy
Through our connections with community leaders and elected officials, we serve as the go-to source for business advocacy and provide access to a library of resources such as legislation and policies.
Ready to join the BVICCHA?
If you're ready to join, click 'Apply now!' to fill out the membership application. A staff representative will reach out to you once it's been submitted.