Guest Entry Promotional Video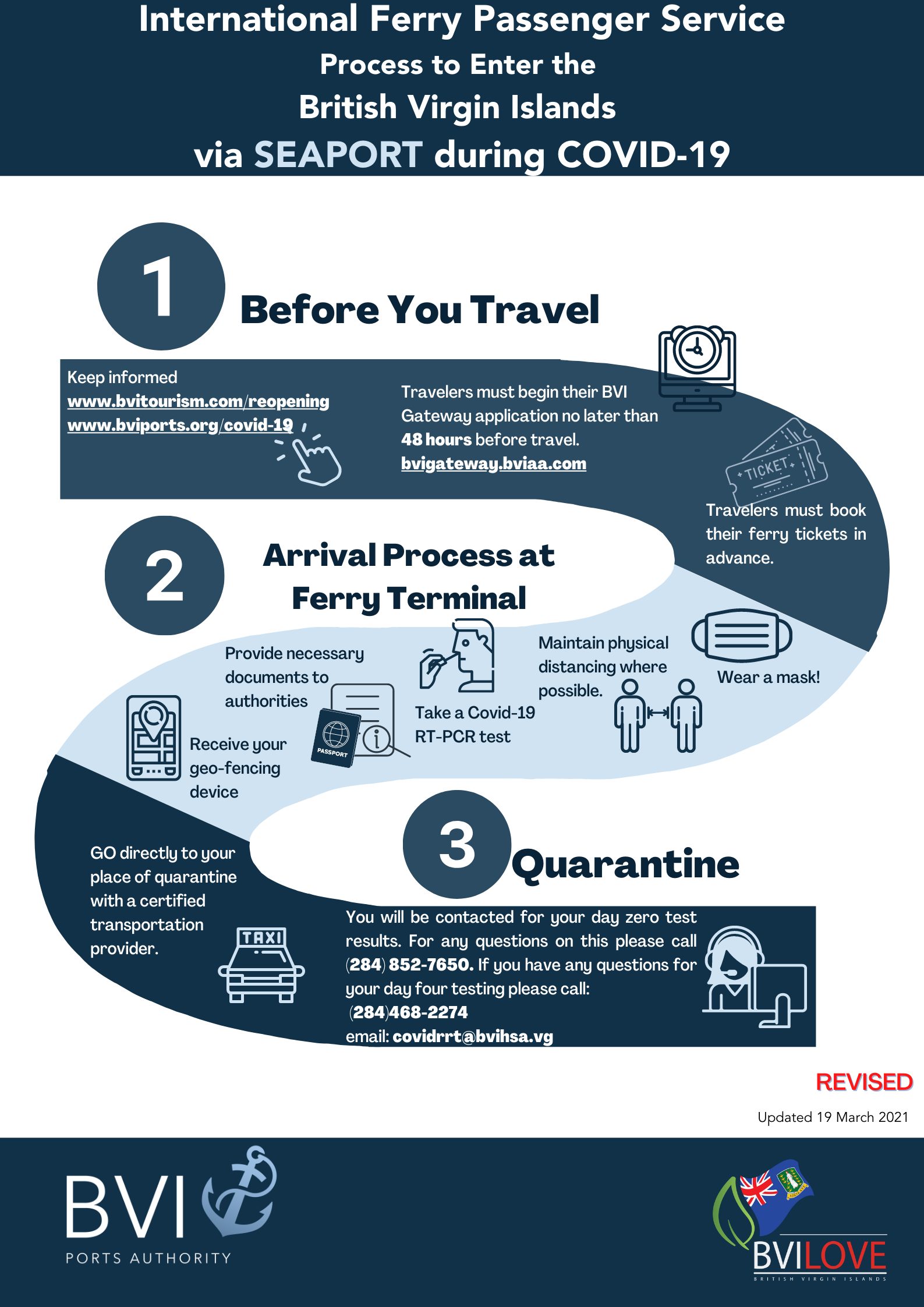 BVI Reopening Steering Commitee Updates
View the latest videos posted by The Government of the Virgin Islands with BVI Reopening SteerCo updates.
BVI Tourism Reopening Guide
In order for all tourism businesses to be approved to serve international visitors, the Government has three requirements.
All staff undergo Gold Seal COVID-19 Industry Training
All businesses pass the Gold Seal COVID-19 Environmental Health Inspection
All businesses, except Taxi and Villas, nominate a COVID-19 officer to ensure that they are following the protocols and to liaise with Government on COVID-19 matters.
Recommended (to Government) Safe Haven Protocols
The following documents were protocols recommended and a guide for a certification plan submitted to the Government of the Virgin Islands. On 30 September, the Chamber received communication that indicated the BVI HI 5 Assurance Programme would be not be implemented. To date (3 October 2020), no protocols have been established as it relates to allowing visitors to return to the country. The Chamber has decided to release the below documents with a hope that your business can start to put something in place while the country waits on official guides from the Government of the Virgin Islands.
Approved Safe Return to Work Guides
While the Virgin Islands economy is still in a phased reopening process, businesses may be required to apply for exemptions for their staff from time-to-time. The steps for this process can be found in the Exempted Persons Curfew Guide.  Follow the steps in this guide to receive your approval.
As more and more businesses are given permission from the Government to reopen their businesses, businesses required protocols (guides) to reopen in a safe manner. These preventive measures are a necessity to ensure that our businesses and employees are safe when they return to work. Basic precautions such as physical distances, hand washing and other personal hygiene practices will be remain general practices that should be implemented for all organizations approved to open to ensure the infection remains contained.
The International Labour Office has developed a 'Safe Return to Work' guide for all work forces to adapt.
Launch of the CARPHA's Novel Caribbean Travellers Health App and Health Assurance Stamp to Reinstate Travel and Protect Tourism
CARPHA, the Caribbean Public Health Agency, is committed to protecting the health and safety of travellers coming to the Caribbean, through its innovative Tourism/Traveler's Health Program (THP). The THP provides an early monitoring and response system to public health issues impacting on tourism, supported by certified training, health, safety and sanitation standards, policy and health and tourism partnerships, to promote a healthier, safer tourism product; giving Caribbean tourism a competitive advantage over other destinations.